Version français en bas de page

In May 2023, Justine Belik (young teaching assistant), Ivan Blanco (FRIA doctoral researcher) and myself (Frédéric Silvestre – professor) travelled to Belize, a small Central American country, to work on our favorite model fish: the mangrove rivulus. This killifish averages 3cm in adult size and is found exclusively in the red mangroves along the American and Caribbean coasts, from Florida to Brazil. Arriving in Belize after a 35-hour journey, the last leg of the trip is by small boat from the small town of Dangriga to the island of Tobacco Caye. Surrounded by birds such as the noisy grackle, with its loud call in the early morning, and the magnificent frigatebird, we set up our base camp here, some thirty minutes' sail from Twin Cays, the chosen sampling site.
Twin Cays was not chosen randomly, as its mangroves are home to a population of rivulus unique in the world. The highest genetic diversity is found here, the result of a high rate of reproduction between males and hermaphrodites. Indeed, the interest in studying this species, and what justifies our expeditions, is the fact that the rivulus is the only known vertebrate, along with a sister species living a little further south, to alternate between reproduction by self-fertilization of hermaphrodites and cross-fertilization with a male. The former quickly leads to quasi-clonal lines with very little genetic diversity, while the latter increases this diversity. Most rivulus populations, and particularly those found in Florida, have very few males, and therefore very little outcrossing and genetic diversity. In contrast, the Twin Cays population has proportionately many males and therefore high genetic diversity. The main objective of this mission is in line with Ivan Blanco's thesis work, which aims to gain knowledge of the mechanisms controlling the sex ratio. For example, we will be analyzing epigenetic marks (DNA methylation) on Twin Cays males and comparing them with hermaphrodites to understand the role played by epigenetics in this particular reproductive system.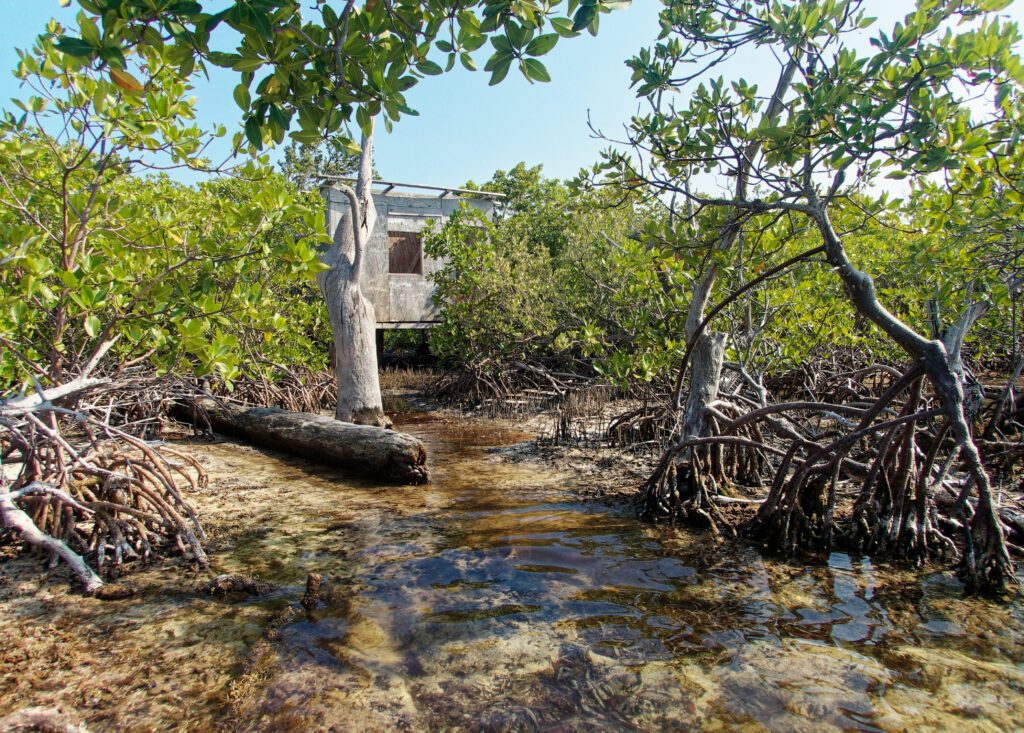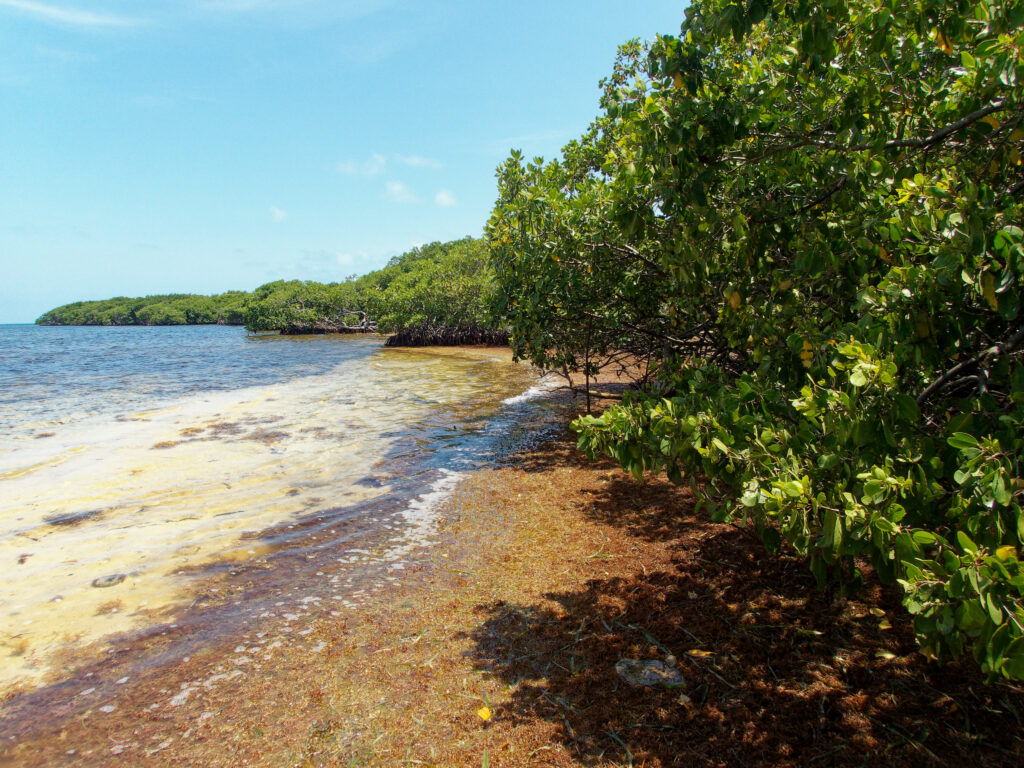 This is our second mission to Twin Cays, a remote place that scientists have studied very little. In 2019, I had already come as part of the thesis work of Valentine Chapelle, now a doctor of science, and accompanied by our colleagues from the University of Alabama, Ryan Earley and Kristy Marson. At the time, we sampled some forty hermaphrodites and estimated their behavioral, genetic and epigenetic variability. This time, we'll be focusing on the males.
Mangroves cover almost the entire island, isolated from the other Cays and the mainland. It is dense and sometimes impossible to cross, made up of alternating red and black mangroves. The former are characterised by their spectacular stilt-like aerial roots, while the latter have vertical roots emerging from the ground, known as pneumatophores. Mangroves also have a particular mode of reproduction: they are viviparous and propagate by means of propagules, small plants ready to develop directly into mature trees. Mangrove trees are also able to eliminate excess salt through their leaves, visible as crystals on the surface. It has to be said that the organisms that live in mangroves have to find mechanisms to resist the very difficult and variable conditions of this ecosystem: sharp variations in salinity, high temperatures, very low oxygen levels and very high sulfide concentrations. However, in addition to the rivulus, many other animals have made their home here, such as crabs, lizards and abundant gastropod molluscs.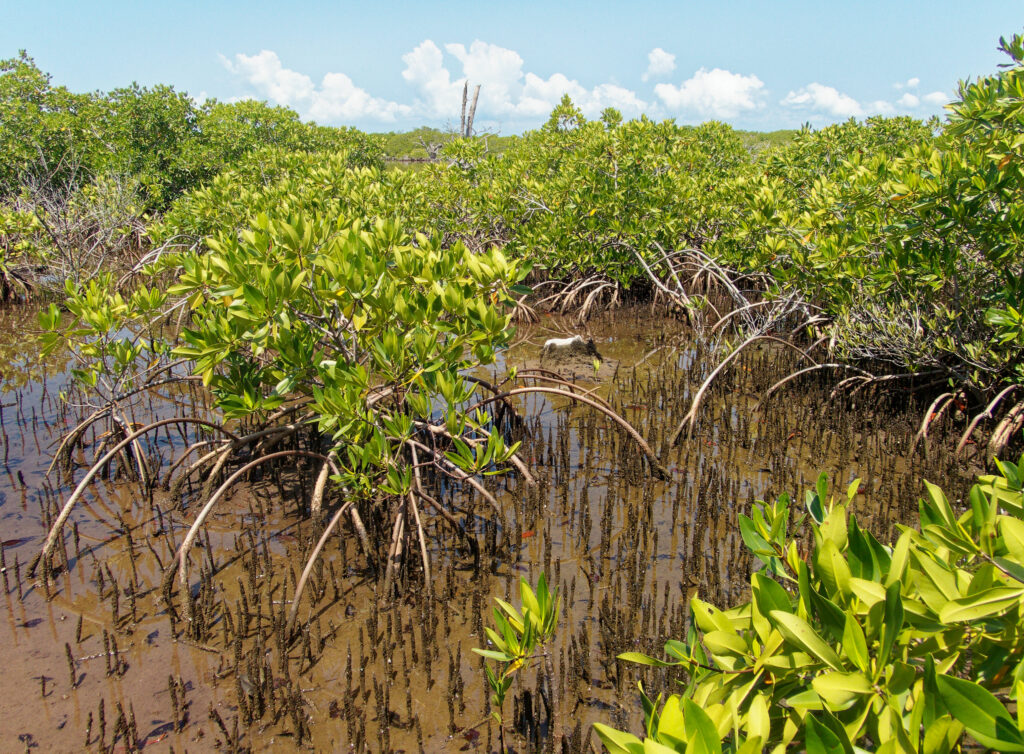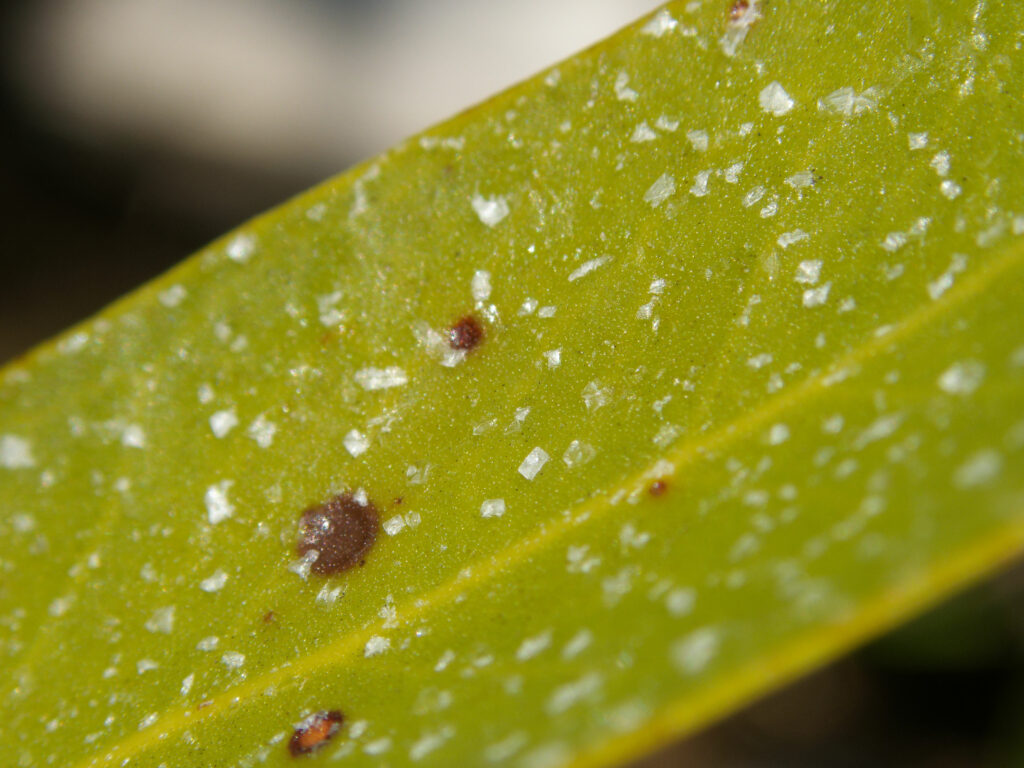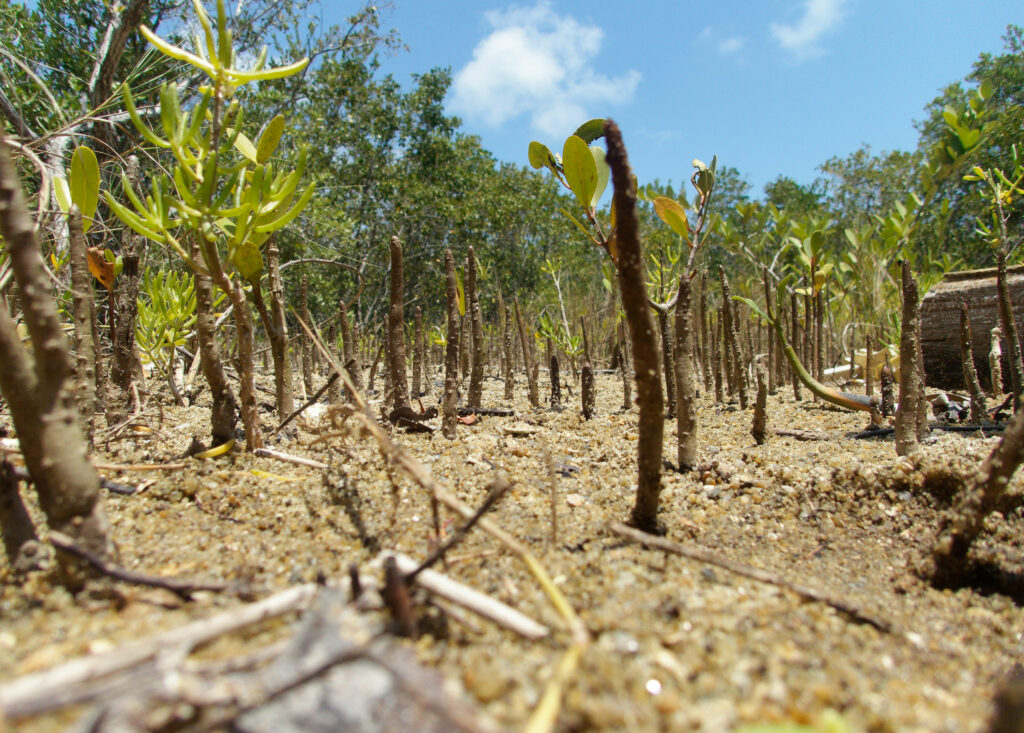 For five days, we set out our homemade traps, half-submerged in the marshy waters, if possible on the descending tide. It's sometimes difficult to find good spots. If there's too much water, the traps are washed away and no rivulus can be caught. Conversely, too little water and the rivulus hide in crab burrows or crevices where they are difficult to extract. Three locations were sampled, roughly equidistant from each other. The first was to the east of the island, a site that had been surveyed in 2019, the second to the north, and finally the third to the south, near a rangers station. The latter was the most prolific in terms of rivulus, the eastern site having proved disappointing. In all, we were able to collect 95 fish, including 17 males, more than enough for Ivan to carry out his analyses and answer his questions. The icing on the cake was that 6 adult fish were brought back alive to Belgium, enabling us to develop a new line in our laboratory.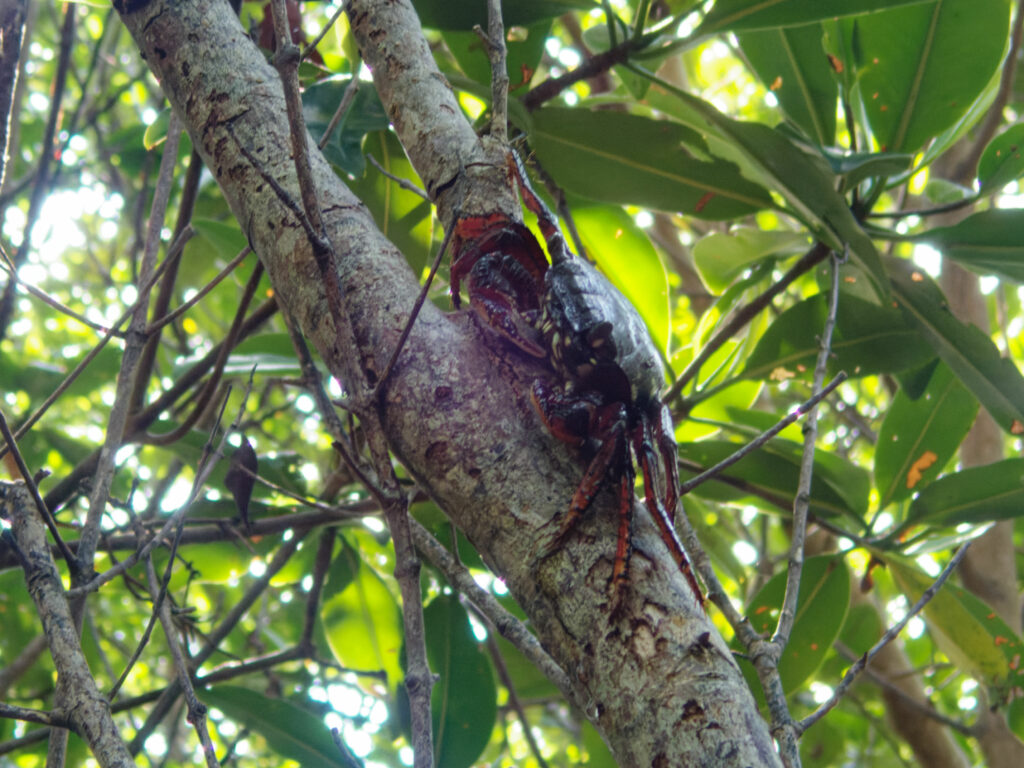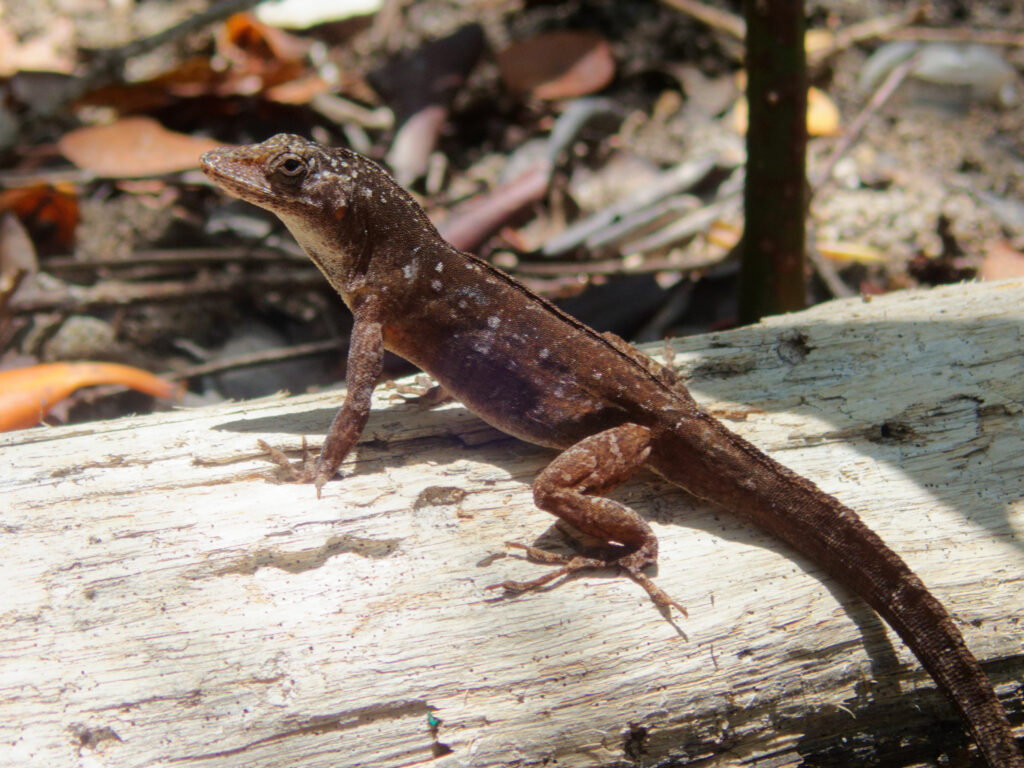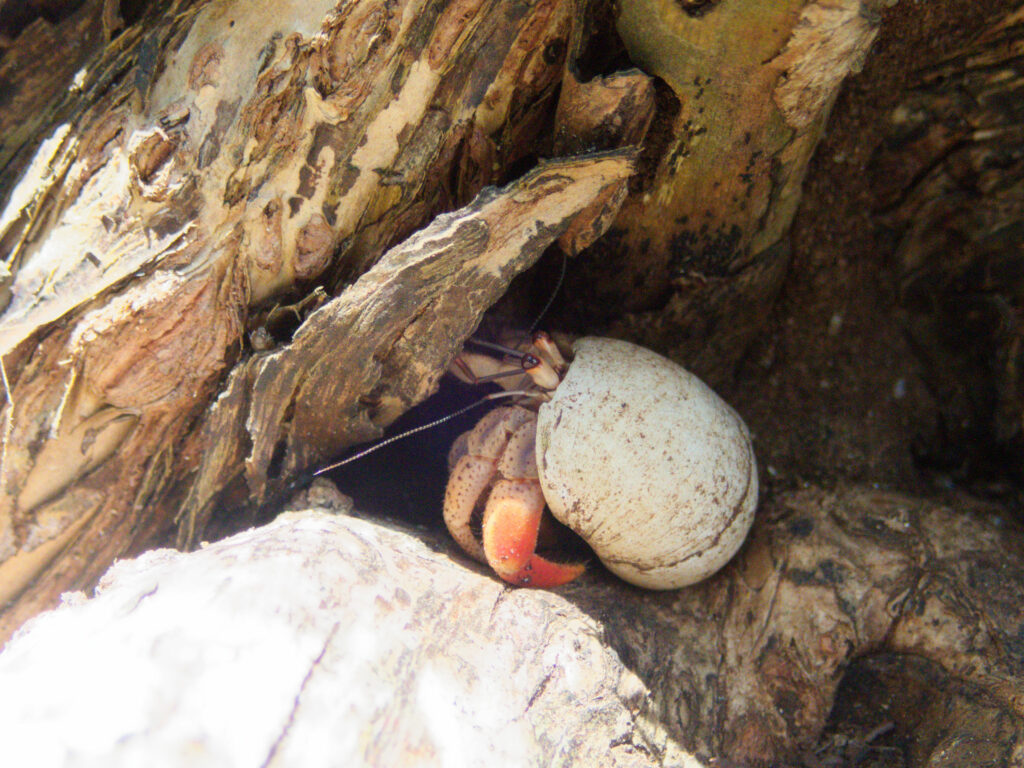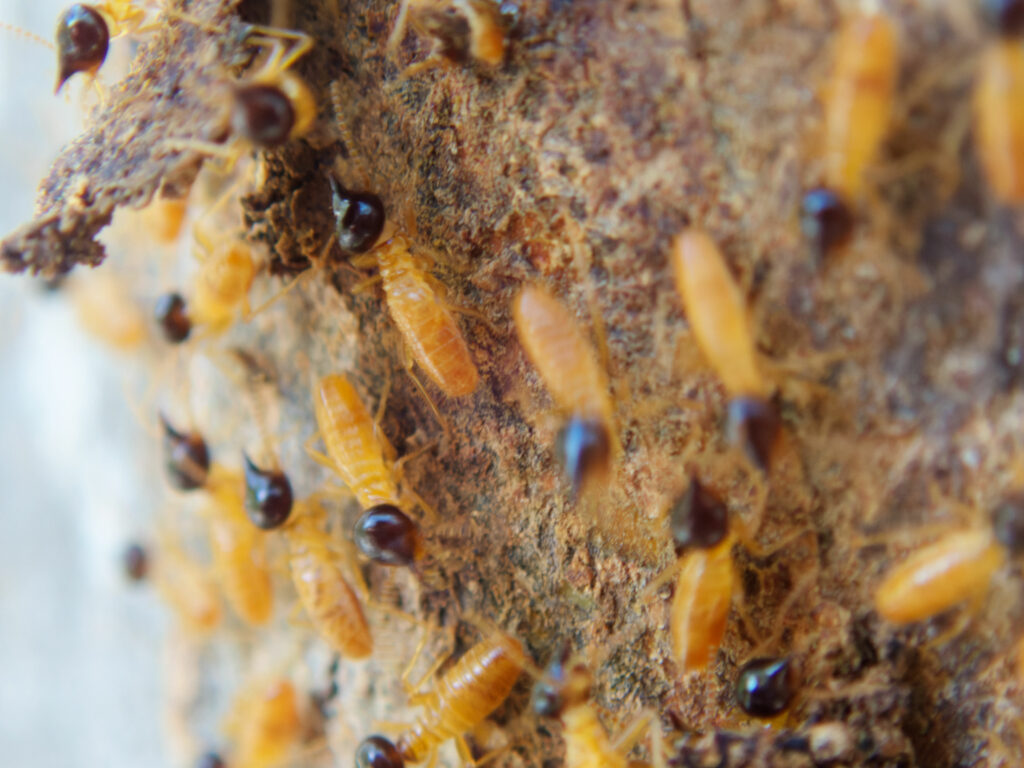 The next step is to go to Florida, to the Emerson Point reserve, where we'll be studying a population that's the opposite of the Twin Cays population, with its near-absence of males. But that's for next July.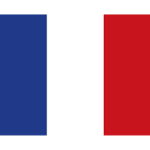 En ce mois de mai 2023, Justine Belik (jeune assistante doctorante), Ivan Blanco (doctorant FRIA) et moi-même (Frédéric Silvestre – professeur), nous sommes rendus au Bélize, petit pays d'Amérique centrale, afin d'y travailler sur notre poisson modèle favori: le rivulus des mangroves. Ce killifish mesure en moyenne 3cm à l'âge adulte et se trouve exclusivement inféodé aux mangroves rouges le long des côtes américaines et caribéennes, de la Floride au Brésil. Arrivés au Bélize après 35h de voyage, la dernière étape se fait en petit bateau afin de rejoindre l'île de Tobacco Caye depuis la petite ville de Dangriga. Entourés d'oiseaux comme le bruyant quiscaille, au cri puissant dès le petit matin, ou la phrégate magnifique, c'est là que nous avons établi notre camp de base, situé à une trentaine de minutes de navigation de Twin Cays, le site de prélèvement choisi.
Twin Cays n'a pas été choisi au hasard puisque ses mangroves abritent une population unique au monde de rivulus. On y rencontre en effet la plus haute diversité génétique, résultat d'un taux élevé de reproduction entre des mâles et des hermaphrodites. En effet, l'intérêt d'étudier cette espèce, et ce qui justifie de telles expéditions, est le fait que le rivulus est le seul vertébré connu, avec une espèce soeur vivant un peu plus au sud, à pouvoir alterner entre une reproduction par auto-fécondation des hermaphrodites et une reproduction croisée avec un mâle. La première abouti rapidement à des lignées quasi-clonales avec très peu de diversité génétique, alors que la seconde permet d'augmenter cette diversité. La plupart des populations de rivulus, et notamment celles rencontrées en Floride, ont très peu de mâles, et donc très peu de croisements et de diversité génétique. Par opposition, la population de Twin Cays a elle proportionnellement beaucoup de mâles et donc une diversité génétique élevée. L'objectif principal de cette mission s'inscrit dans le travail de thèse d'Ivan Blanco qui est d'apporter des connaissances quant aux mécanismes qui contrôlent le sex-ratio. Il sera par exemple question d'analyser les marques épigénétiques (méthylation de l'ADN) sur les mâles de Twin Cays et de les comparer aux hermaphrodites afin de comprendre le rôle joué par l'épigénétique dans ce système de reproduction particulier.
C'est notre deuxième mission à Twin Cays, endroit reculé que les scientifiques ont très peu étudié. En 2019, j'étais déjà venu dans le cadre des travaux de thèse de Valentine Chapelle, aujourd'hui docteure en sciences, et accompagnés de nos collègues de l'Université d'Alabama, Ryan Earley et Kristy Marson. Nous avions alors échantillonné une quarantaine d'hermaphrodites chez qui nous avons estimé la variabilité comportementale, génétique et épigénétique. Cette fois, ce sont surtout les mâles qui vont nous intéresser.
La mangrove recouvre la quasi totalité de cette île, isolée des autres Cays et du continent. Elle est dense et parfois impossible à traverser, constituée d'une alternance de palétuviers rouges et noirs. Les premiers sont caractérisés par ces spectaculaires racines aériennes en échasse, alors que les seconds montrent des racines verticales sortant du sol et appelées pneumatophores. Les palétuviers ont également un mode de reproduction particulier puisqu'ils sont vivipares et se propagent grâces aux propagules, sortes de petites plantes prêtes à se développer directement en arbres adultes. Les palétuviers sont également capables d'éliminer l'excédant de sel à travers leurs feuilles, visible sous forme de cristaux à la surface de celles-ci. Il faut dire que les organismes qui vivent dans les mangroves doivent trouver des mécanismes pour résister aux conditions très difficiles et très variables de cet écosystème: fortes variations de salinité, températures élevées, taux d'oxygène très faible et concentration en sulfure très haute. Pourtant, outre les rivulus, de nombreux animaux y ont élu domicile et nous suivent tout au long de notre travail comme des crabes et lézards ou d'abondants mollusques gastéropodes.
Pendant cinq jours, nous avons disposé nos pièges faits maison, mi-immergés dans les eaux marécageuses, si possible lors de la marée descendante. Il est parfois difficile de trouver de bons endroits. S'il y a trop d'eau, les pièges sont emportés et aucun rivulus ne peut être capturé. A l'opposé, trop peu d'eau et les rivulus se cachent dans des terriers de crabes ou des enfractuosités où il est difficile de les y extraire. Trois lieux ont été échantillonnés, répartis à peu prêt à équidistance l'un de l'autre. Le premier à l'Est de l'île, site qui avait été étudié en 2019, le second au nord, et enfin le troisième au sud, près d'une station de rangers. C'est ce dernier qui a été le plus prolifique en rivulus, le site à l'Est s'étant révélé décevant. Au total, nous avons pu prélever 95 poissons, dont 17 mâles, nombres largement suffisants pour qu'Ivan puisse réaliser ses analyses et répondre à ses questions. Cerise sur le gâteau, 6 poissons adultes ont pu être ramenés vivants en Belgique et nous permettront de développer une nouvelle lignée au sein de notre laboratoire.
La prochaine étape est maintenant de nous rendre en Floride, dans le réserve d'Emerson Point, où nous allons étudier une population opposée à celle de Twin Cays puisqu'elle présente une quasi absence de mâles. Mais cela, c'est pour juillet prochain.