As LEAP is part of the Research Unit in Environmental and Evolutionary Biology URBE, the facilities described below can be shared by all the members of URBE. Some other facilities belong to other research units and departments of UNamur but are directly accessible by LEAP members.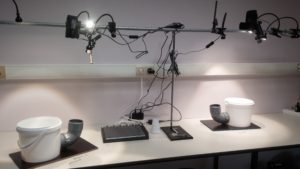 LEAP is a laboratory of integrative and comparative biology. It means that most research must fit with some restrictions, such as adapting protocols developed on well-characterized model species to non-sequenced organisms, but with a high relevancy in environmental biology. Moreover, we aim to integrate different levels of biological organization. At the organism level, we aim to analyze the phenotype of individuals. The main studied levels refer to physiology, mainly respiration and osmoregulation, for which we have a long experience. General osmolality as well as major ions content can be analyzed in blood and other biological fluids, while respirometry is  available thanks to swim tunnels from Loligo, designed for swim trials and active metabolic rate measurements in larvae, juveniles or tiny adult fish like zebrafish and killifish. Currently, we are developing simple assessment tools for behavioral traits (such as boldness and aggressiveness) as well as more complex locomotory assays in a behavorial assay room. We are using the software Ethovision for behavioral analyses. Lastly, we assess the fitness and the life history traits of fish, as well as developmental parameters. For larvae analysis, we are using a high-quality Nikon SMZ1270 stereomicroscope.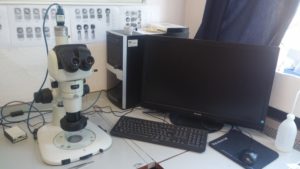 At the biochemical level, we have the facilities to run most classical analysis, such as differential centrifugations, immunoblot (western, dot/slot-blot) and spectrometry-based assays (multifunctional microplate reader Fluostar Omega, BMG Labtech). Most commonly used assays (non exhaustive) concerns HSP70 and 90, oxydative stress biomarkers (LPO, GSH, GST, GPx, GR, SOD, CAT,…), Na/K-ATPase, carbonic anhydrase, proteasome, protein disulfide isomerase, etc.
Defining the cellular phenotype and anchoring it to the organism phenotype is one of the main objectives and originality of the lab. Since 2005, we've been regularly publishing data related to environmental proteomics. We are investigating the protein expression profiles in different organs or tissues in non-model organisms exposed to different environmental stressors. We have an environmental proteomics platform dedicated to 2D gels and we can work on subproteomes after differential centrifugation. The most commonly used technique is 2D-DIGE (differential in gel electrophoresis), which consists in staining proteins with fluorescent dyes and mixing up to 3 samples in the same gel. We scan gels with the Typhoon fluorescent scanner (GE Healthcare) in collaboration with the Laboratory of Cellular Biochemistry and Biology URBC (Prof. M Raes). Protein identification is achieved by the Mass Spectrometry platform (MaSUN) developed by the URBC, mainly using a Bruker Daltonics maXis UHR-TOF coupled with a 2D-LC Dionex UltiMate 3000. Recently, we have been developing gel-free and label-free workflows in collaborations with our national and international partners, mostly Professor Dietmar Kuëltz from the University of California Davis. This workflow is being adapted to our model species, the mangrove killifish. In addition to proteomics, transcriptomics data are being obtained in collaboration with the Genomics core of the KU Leuven. If specific cell are being studied, we are using laser capture microdissection with the help of the Department of Morphology of the Ghent University.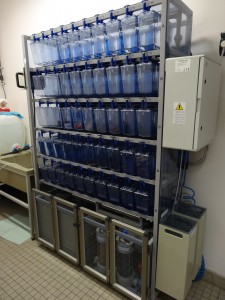 Molecular analysis are currently at the heart of most of our research projects. Gene expression can be analyzed with a StepOnePlus Real-Time PCR system (Life Technologies) and we also work with different RT-PCR systems. We have two sequencers available at URBE. The first one is latest generation 4-capillary electrophoresis instrument for the low to medium throughput laboratories (Applied Biosystems 3130x Genetic Analyzer – Prof. K. Van Doninck). The second one uses pyrosequencing technology for real-time, sequence-based detection and quantification of sequence variants and epigenetic methylation (Qiagen PyroMark Q24). Both are dedicated to genetic and epigenetic analysis such as microsatelites, AFLP, SNP screening and validation and DNA methylation quantitation at CpG dinucleotides. For high throughput gene expression analyses, we're collaborating with the High Throughput Quantitative PCR Facility genomic Paris Center.
For epigenetic studies, we are currently developing approaches at different levels for DNA methylation analysis in fish tissues and larvae, in collaboration with our international partners. Global methylation level permits the global assessment of DNA methylation in a biological system and presents the advantage to allow a high number of replicates and conditions. For this purpose, we have adapted the LUminometric Methylation Assay (LUMA) using the Pyromark Q24. We are therefore able to follow the DNA methylation reprogramming period during fish early embryogenesis, a period highly sensitive to environmental stressors. We also compare global methylation levels in different organs of fish exposed to pollutants or other stressors. In a second step, we are able to assess the methylation level at CpG specific dinucleotides (Pyromark Q24) of genes of interest. Together with gene expression, it provides with a deep understanding of the function of specific epigenetic marks at single dinucleotides. If sequences needed are longer than 200 bp, we are using a workflow of cloning prior to bisulfite sequencing to get methylation values at specific CpG. Lastly, genome-wide methylation level is the high-throughput version of DNA methylation. We're currently using Reduced Representative Bisulfite Sequencing (RRBS) on zebrafish, and soon on killifish, to reach a high resolution analysis of fish methylomes under different environmental conditions (with Dr. Chatterjee, University of Otago). In parallel, we're also developing a new approach combining the advantages of MeDIP-seq and MRE-seq, representing a cost-effective alternative to WGBS (with Dr. Turner, Luxembourg Institute of Health).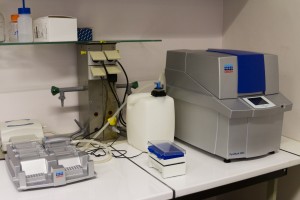 Some other facilities exist in URBE, such as a cell culture room, a radionuclide room, a Dako Autostainer Plus Staining System for immunohistochemistry (Prof. P. Kestemont), and wet labs for fish rearing and breeding (e.g. Tecniplast Zebtec Active-Blue Stand Alone Zebrafish System). A bioinformatics room permit to work with genetic, epigenetic and proteomic tools. Proteomics softwares include Delta 2D (Decodon), ProteinScape (Bruker) and Scaffold (Proteome Software).
The UNamur holds 8 different technological platforms (including the Mass Spectrometry Service MaSUN) that are accessible to LEAP members.