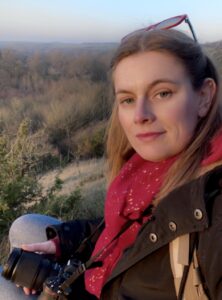 Passionate since my childhood by nature and the organisms that constitute it, I chose to do after my scientific baccalaureate in France, a Bachelor in Life, Earth and Environmental Sciences specializing in Organisms and Populations Biology in Lille (France). During the third year of Bachelor, we do a little internship to discover the research and I chose to do it in an ecotoxicology lab who works on the Xenopus laevis eggs and the impact of some pollutants.
Then, I continued my studies with a Master's degree in Biodiversity, Ecology and Evolution specializing in Marine Ecosystem Management the University of Lille. During this Master I did two internships in ecotoxicology.
In the first year of Master, I studied the anthropic impact of 3 different sites on the marine worm Nereis diversicolor during 2 months (Marine Station of Wimereux – France).
And in my second year of Master, I studied the MultiXenobiotic Resistance (MXR) system on Mytillus edulis after an exposition to different xenobiotics (Cadmium, Benzo(a)pyrene, …) in SEBIO Lab (Le Havre – France). During this internship I had the pleasure to present a poster to the ECOBIM conference (2016) on my results.
After this Master, I decided to do a second Master's degree in Environmental and Human Ecotoxicology in the University of Le Mans (France) to acquire new skills in ecotoxicology.
During this Master, I did an internship in Belgium with Frederic Silvestre and Alessandra Carion at the LEAP, to study the direct effect of a neurotoxin on the larvae development of the mangrove rivulus (Kryptolebias marmoratus) in collaboration with another Master student (Angèle Markey). I investigated the 7 days post-hatching larvae after an exposure to BMAA, and this study showed an impact on the maximal speed and the prey capture success (oral communication during the conference ECOBIM 2018 by myself and published by A. Carion in 2018).
In 2019, I worked three months in SEBIO lab as technician to study the secretome of sea bass lymphocytes (Dicentrarchus labrax) exposed to 17𝛂-ethinylestradiol (EE2) and do immunohistochemistry of lymphoid organs (Published by C. Moreira in 2021).
Since the pandemic (2020), I teach biology courses (physiology of the human body – organs organization – chronobiology – … ) to the 1st year nurse students at the "Institut de Formation en Santé de l'Audomarois" (Helfaut – France).
For several years, I wanted to continue my formation as PhD student, and this is what happened, with Frédéric Silvestre (UNamur), Cathy Debier (UCLouvain) and Melissa Page (UCLouvain).
My PhD subject is to characterize the changes of genomic DNA methylations in different tissues of the African turquoise killifish (Nothobranchius furzeri) along its whole life cycle (young to old adult) and to develop an epigenetic clock for this species in the first part. In the second part we will focus on the environmental changes (temperature modifications, enrichment by polyunsaturated fatty acid (PUFAs) in alimentation, …) that can impact the methylation and the epigenetic clock in this species.
N. furzeri is a great specie to study this subject because it's one of the shortest recorded lifespans of any vertebrates that can be bred in captivity, that's why since 2006 it was used as a new model to study aging. It shows aging phenotypes (physiological and cognitive decay, fertility decline, …) to "easily" characterize the different steps of aging.